For more than two decades, Audiological Services of Iowa has been helping the hearing impaired of Western Iowa to improve their quality of life. We understand that hearing loss impacts all aspects of daily life, including our ability to communicate with family, friends, and those around us.
Dealing with the unknown of any untreated healthcare issue can be daunting. We believe that informed patients make the best and happiest patients. That's why we encourage any questions to be asked and hope to have an open dialogue regarding the challenges our patients face and how we can help them take control of their problems.
We believe that each patient and each hearing loss is unique. Our audiologist will take the time necessary to discover what is truly important to the patient. When it comes to treatment for hearing loss, there is no one-size-fits-all solution.
An Atlantic native, Doug has been serving the needs of the hearing impaired in western Iowa since 1996. A graduate of Iowa State University and the University of South Dakota, he began full-time practice in July 1998 and became owner in 2003. Doug enjoys helping patients discover what they've been missing because of untreated hearing loss and works to improve their quality of life through amplification and assistive listening devices. He likes to spend time with his family and friends away from work.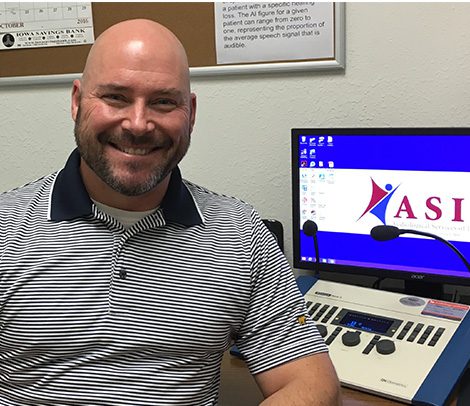 Doug Leonard, MA
Audiologist

Cheryl Barry
Office manager/Patient care coordinator
Renee Wallace
Billing specialists
Teresa Cullen
Office manager/Patient care coordinator
Appointments
An appointment must be made for all hearing evaluations, hearing aid fittings, and consultations. If you have insurance and your plan requires a referral, please contact your primary care physician.
At Audiological Services of Iowa, we understand how important your hearing aids are to you and will try to do our best to accommodate any urgent problems as quickly as possible.
Insurance
Do you need a referral?
Some insurance plans require a referral from your primary care physician prior to your evaluation, and some insurance plans require pre-authorization. For Medicare patients, a note from your physician requesting Hearing Testing or a Hearing Evaluation is required. If you are unsure of your insurance coverage, please contact your healthcare plan directly, or call our office.
Payment
Audiological Services of Iowa will file insurance forms for all the providers listed above. If you are paying for your hearing evaluation or hearing product, we request payment when services are rendered.
A deposit is required on the date the hearing aid is ordered. Payment balances are due at the hearing aid fitting appointment. Audiological Services of Iowa accepts MasterCard, Visa, and Care Credit for your convenience.

Care Credit
We accept CareCredit ®, the leading healthcare credit card, to make improving your hearing health easier and more affordable. With CareCredit®, you can get the hearing instrument you need and conveniently pay for it over time with monthly payments that easily fit into your budget.
CareCredit offers special financing on purchase of $200 or more for healthcare costs not commonly covered by insurance, including hearing aids.
It's a convenient way to improve your hearing health. Learn more by contacting our office.